Currently we are on a roll! We have 3 new additions to look forward to. The first one is this AS/400 system. It used to be from a company (of course) and because they are really careful with their data I got the system without hard-discs, but thankfully enough with the hard-disc bays to mount them in.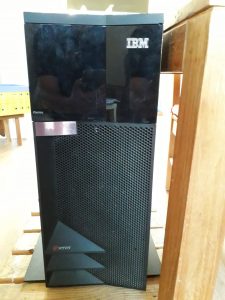 And there is more to come! I recently did a bid in an auction on an IBM 520. And, thankfully, nobody else was interested in some other old xseries 19″ server. But it was the small sticker on the front saying "HMC" that ticket me off. Hopefully the drive hasn't been wiped. We'll see!
But the fun isn't over yet! In July I will drive to Belgium to pick up some old and sizeable server. No more specs available at this time. But we'll see!